The world is your oyster when it comes to travel destinations, but New Zealand is a hub of adrenaline packed activities, fun-filled attractions and stunning landscapes. There is almost too much choice!
Here is our North Island Top 10: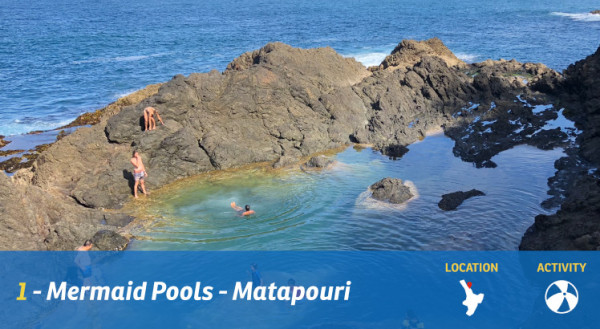 A spectacular white sand coastal beach that features a restful estuary at Matapouri Bay. Discover the Mermaid Pools at low tide. This beach is popular for holiday homes. From Matapouri there is a walkway, via the coast to Whale Bay, with splendid coastal views (40 minutes one way). A local store, playground, tennis courts, parking and public bathrooms are available.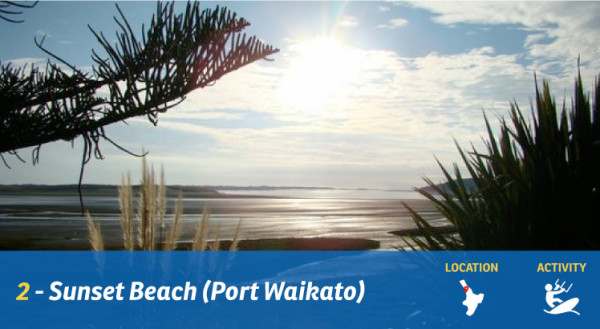 Sunset Beach at Port Waikato is a mecca for surfers and swimmers in the summer months. The beach is a popular spot and well-known summer destination. The picturesque settlement of Port Waikato, 1.5 hours north of Hamilton, is where New Zealand's longest river meets the Tasman Sea.

In peak holiday season, the population soars and many day-trippers and backpackers eagerly explore the rugged West Coast, with surfers tackling the challenging waves and families picnicking on the black sands of Sunset Beach – all having flocked to "The Port".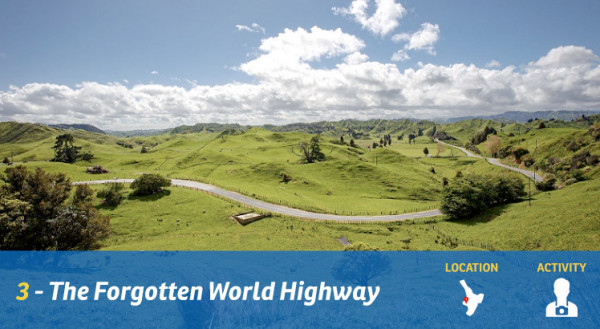 How can you not be intrigued by a road named "Forgotten World Highway"? It is so called due to the fact that it's New Zealand's oldest heritage trail. Whether you're taking drive for the day or a few days' bike ride, there are many reasons worth stopping for on this 155km highway, between Stratford and Taumarunui. Find snippets of history in the remnants of forgotten tunnels, locate old Maori pa sites left from this Maori trading route or hike into native forest to get a taste of how stunning New Zealand was before it was discovered by humans.
If you are planning a road trip through the North Island of New Zealand, don't forget to add the Forgotten World Highway on your itinerary.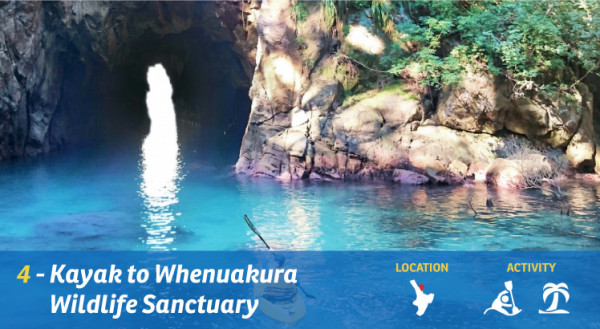 Whangamata is home to one of New Zealand's most beautiful coastal attractions. For a long time, Whenuakura Wildlife Sanctuary, often referred to as Donut Island, was a local secret. This has however changed in recent years as this pacific treasure has quickly become a 'must-do' New Zealand adventure.
Guardians of the islands and Whangamata locals encourage you to treat the islands with respect to preserve their future.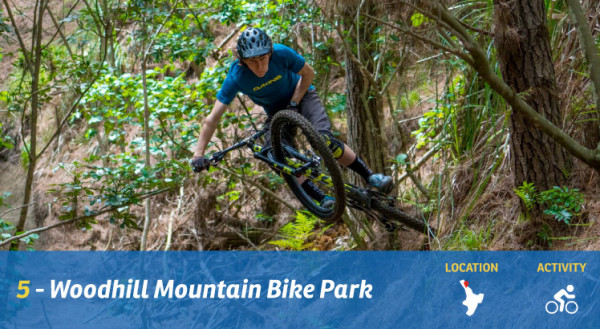 Set amongst the Woodhill Forest in the west of Auckland, Woodhill Mountain Bike Park boasts over 100km of purpose-built single track, loaded with over 250 man-made features. The park also features four Frisbee Golf courses with four set distances for different skill levels. Being so easily accessible, Woodhill is arguably the most popular riding area near Auckland. With more tracks than you could possibly ride in one day, 67 to be exact, there is a little something for everyone from beginners to experts and adrenaline junkies.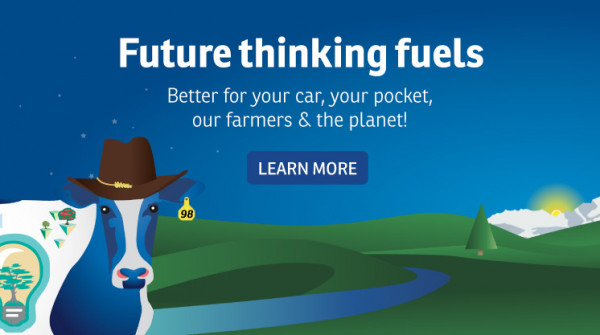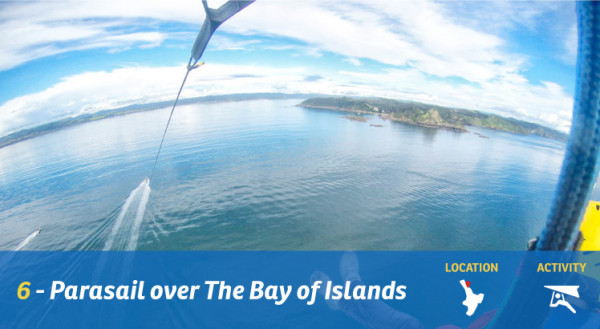 Embark on a sensational parasailing flight, experiencing a tremendous height of 1,300ft, over what has to be the best parasailing location in New Zealand - the paradise that is the Bay of Islands.
Take off gently from the custom designed parasailing boat and soar 1,300ft, whilst enjoying the amazing scenic views over crystal clear waters and 144 beautiful islands that make up the Bay. Fly solo, in tandem or in triple flights and share the fun...or the fear!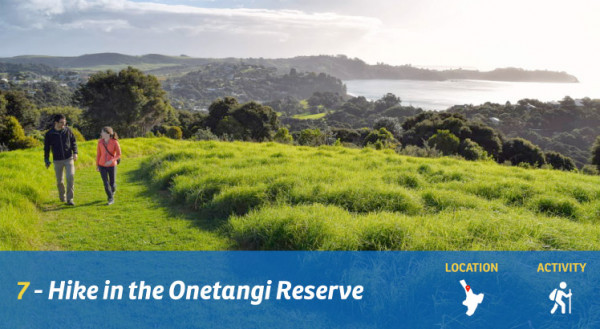 The internal loop track system, starting and finishing at the same gate, takes a leisurely two hours to complete and traverses all the major vegetation types within the reserve. Some sections of the track are steep and can be slippery when wet. You are advised to wear suitable heavy footwear.
The reserve is located on Waiheke Island, off Auckland in the Hauraki Gulf, with regular ferry crossings to the island. There are three entrances to the reserve - Waiheke Road, Scotts Terrace and Trig Hill Road, close to the Pukeatua Reserve. If you are travelling by bus, catch it to the Fourth Avenue bus stop in Onetangi and the main Roy Nelson gate is a five-minute walk up Waiheke Road. Don't forget to pop into one of the nearby Waiheke wineries to reward your efforts!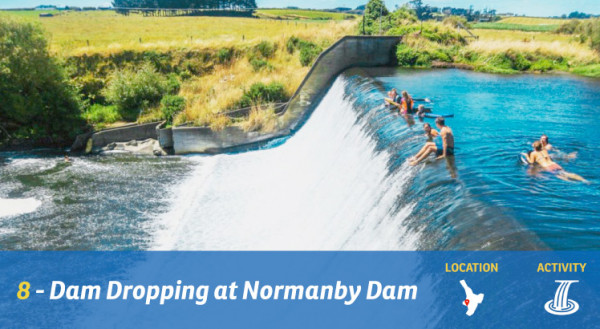 Dam dropping is one of the hidden gems of adventure activities in New Zealand. A South Taranaki thrill-seeker has taken classic dam dropping fun to a whole new level this summer. A ramp and platform built by Bergen Raikes, 27, was put in at the Normanby Dam, on the Waingongoro River near Hawera.

Raikes, a stainless steel engineer, said he woke up one day and built the 1-metre high ramp just for fun!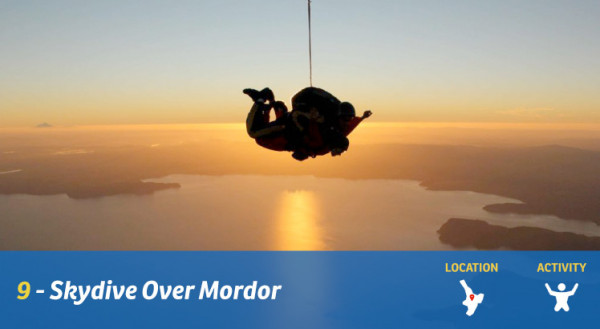 If there is one place where you can skydive over fiery Mordor, it's in Taupo! If this has been one of your dreams since reading this sentence few seconds ago, make sure to write down "Skydive Taupo" on your adventure-seeking bucket list!
3….2….1….SKYDIVE! And then plunge 15,000ft towards the earth!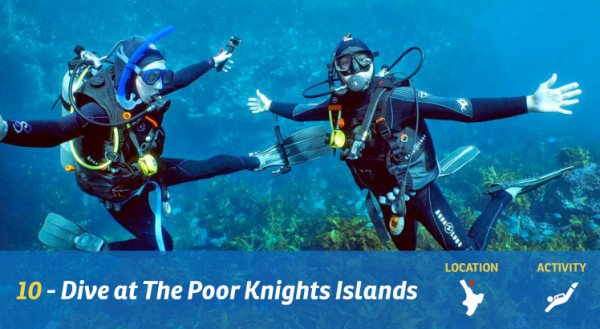 Beneath the waves at the Poor Knights, the caves, arches, tunnels and sheer cliffs provide a great variety of habitats to explore.

The islands, located off the East Coast of the Northland Region, are renowned for their diving and snorkelling, and local tourist operators are often equipped to give non-divers a thrilling underwater experience. Jacques Cousteau rated the area as one of the top ten dives in the world!