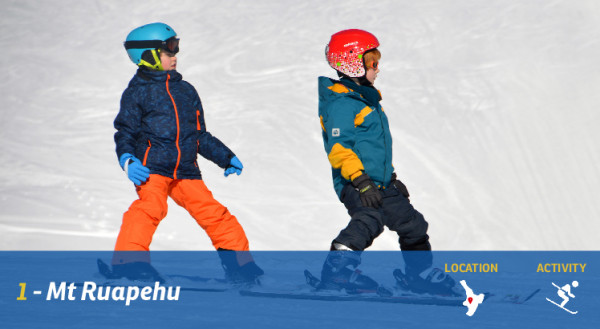 Winter means it's time for the snow and there's no better place to get amongst it than at Mt Ruapehu. Located smack bang in the middle of the North Island, Ruapehu is New Zealand's only skiable volcano and home to Whakapapa and Turoa, Ruapehu's two major commercial ski areas, which complement each other with their respective northwestern and southwestern facing aspects. Together the boast more than 1000 hectares of skiable terrain with an excess of 700 metres of vertical descent.
The mountain looks over the spectacular scenery of the Tongariro National Park - a UNESCO recognised World Heritage site, Lake Taupō and the Central Plateau. Accommodation and après-ski activities are close at hand, making Ruapehu the perfect spot for a winter break, whether you're just a beginner or an experienced snow junkie.
Location: Manawatu-Wanganui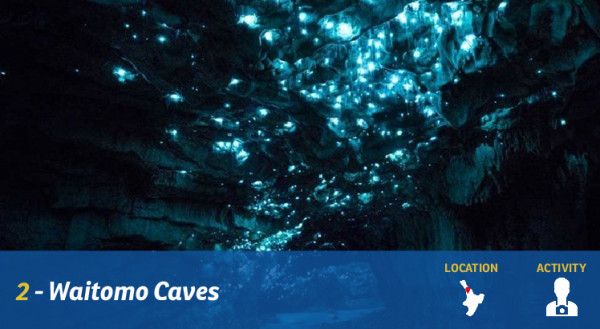 If Winter weather is keeping you indoors, head underground and experience the starry wonderland of the Waitomo Caves. The King Country's limestone caves and the myriad glowworms that inhabit them are world-renowned.
Take an enchanting cave tour on foot or float via boat quietly along the river and observe the thousands of tiny living lamps that light the caves. If you're looking for a more serious adventure, give black water rafting a go, or climb and abseil down into the subterranean world, where you'll float alone the underground river on tyre tubes, as the glowworms twinkle in their own time right above you.

Once you come back to the surface, the Waitomo area has many other natural wonders and walks to enjoy.
Location: Waikato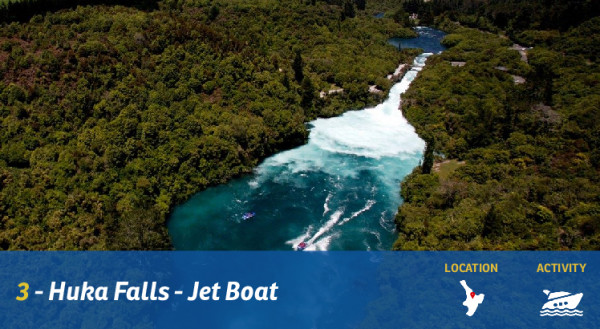 What better way to experience the might of the Huka Falls than by jet boat? The 11-metre high falls, neighbouring Taupō, are one of New Zealand's most popular natural wonders and a boat ride will get you close enough to touch the spray created as torrents of water gush down over the rapids. Along the way to the falls you'll whizz past native bush, sheer rock cliffs and hot water streams that enter the Waikato River. And if that isn't enough adrenaline for you, the driver will whip the boat through 360 degree spins!

Of course there are plenty of walking tracks alongside the falls, but they won't raise your heartbeat in quite the same way..!

Location: Waikato River, Taupo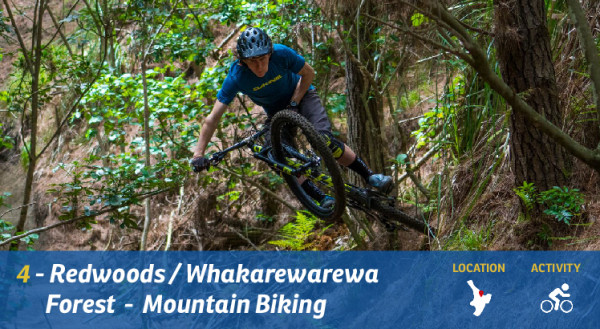 Near the heart of Rotorua lies one of the world's best mountain-biking destinations. The Redwoods is a vast network of wooded trails, whether you're looking for a scenic ride or some extreme, technical action. Shuttles to the top of Whakarewarewa Forest offer the opportunity to speed downhill all day, if riding uphill on a bike just isn't your thing.

The 50 hectares of forest features a wide range of terrain, exotic and native trees, and the fast-draining volcanic soils mean that even in winter, you won't be bogged down in too much mud. After your ride, you can unwind in one of Rotorua's many thermal hot pools. Ahhhh.....
Location: Bay of Plenty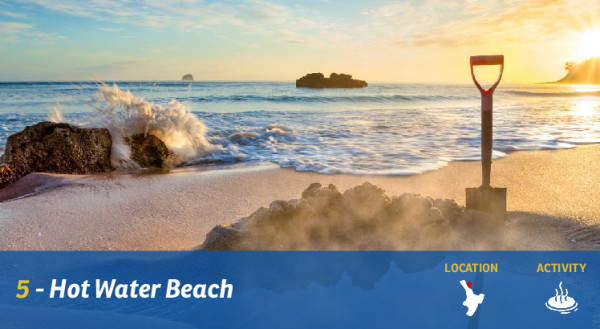 Winter is always a great time to dig a spa pool in the sand at the beach, right? Head to Coromandel's Hot Water Beach at low tide and relax in the naturally-heated mineral water that flows through the white sands. All you need is yourself and a spade and in no time you'll have your very own private spa pool! Be sure to dig close to the ocean as the hot water can reach up to 64°C, so you might need a bit of the refreshing sea water on hand for a cool down!

As well as thermal springs and amazing coastal scenery, Hot Water Beach is home to many cafés and art galleries and is only short drive from the walkway to stunning Cathedral Cove nearby.

Location: Coromandel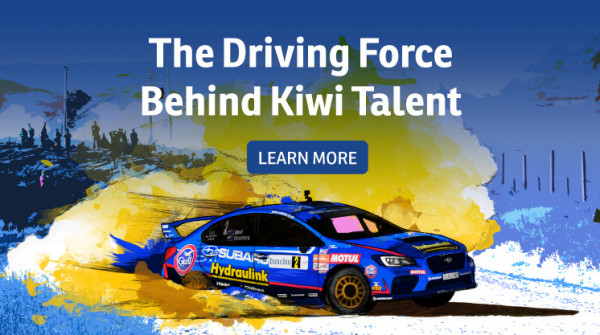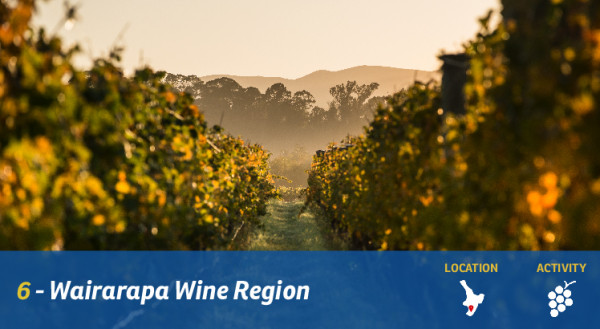 If it's cold out, then a glass of fine wine could be just the thing to warm your heart. Take the scenic route through the ranges from Wellington and you will arrive in the picturesque region of Wairarapa, which offers a range of boutique wineries, cafes, restaurants and various accommodation options.

Famed for its Pinot Noir, the Wairarapa's climate helps create wines with intense and complex flavours. There are many cellar doors to visit between Martinborough, Gladstone and Masterton, which are ideally suited to a day trip, or, if you really want to soak up the experience, make a weekend of it. While there are few large hotels, there are plenty of comfortable farm stays, bed and breakfasts and boutique hotels or North Island's southernmost hotel at Lake Ferry.
For those who like to learn one new thing everyday - Wairarapa means glistening waters in Māori.
Location: Wellington region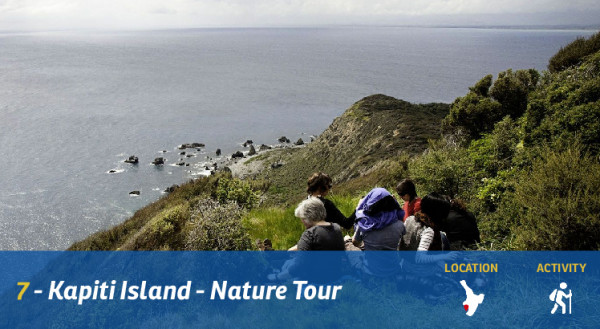 5km off the West Coast of the southern North Island is Kapiti Island, one of New Zealand's oldest and most important nature reserves - 10km long, 2km wide and covering 1,965 hectares. The island is home to many species of rare native birds, forest, wildlife and marine reserve and human influence is kept to a bare minimum.

A ferry from Paraparaumu Beach (north of Porirua) takes you out to the island sanctuary, which also has a rich Māori and early European settler history. During the coldest months, you can only visit Kapiti Island for the day, but once the weather starts to warm up a bit you can stay overnight for a chance to see a Little Spotted Kiwi in their natural habitat. There are over 1,200 living on the island.
For over eight hundred years people also have lived on this island, and their history survives today through the stories and legends told by their ancestors and through historical sites and artefacts
Location: Off the coast of Wellington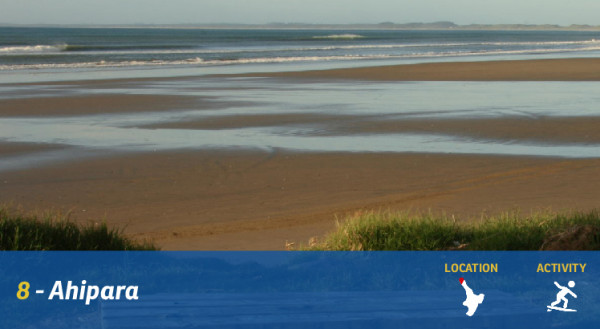 Nestled at the bottom of Ninety Mile Beach in Northland, Ahipara is about as close as you can get to a tropical getaway without catching a plane. The small beachside town is north-facing, catching the sun and offering a range of activities from fishing to quad-biking, four-wheel-driving to diving, wind-surfing to golf.

At the southern end of the beach, the waves of Shipwreck Bay attract surfers from all over and the huge sand dunes around Tauroa Point are perfect for thrilling slide on a sandboard - perfect for all levels of ability and all levels of fun. Whilst you're visiting Ahipara, continue the less than 2-hour drive to the highest point in New Zealand - Cape Reinga. A perfect day trip viewing the beautiful sites of the rugged Northland.
Location: Northland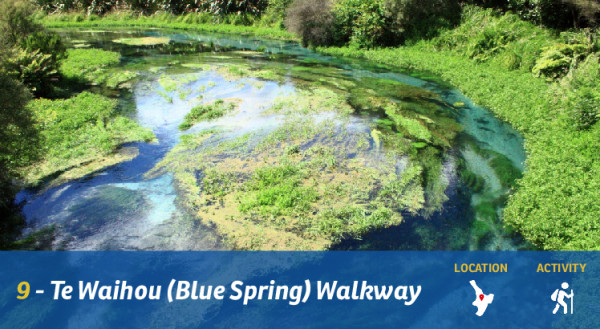 The Blue Spring, near Putaruru in South Waikato, is truly a hidden gem. The spring is fed from the Mamaku Plateau where the water takes up to 100 years to filter through; the resulting water is so pure and clean that it produces a beautiful blue colour while being virtually clear. This water supplies around 60% of New Zealand's bottled water.
Walk the 3-hour return track along the Waihou River, through wetlands, native bush and farm land and spot small waterfalls along the way and glimpses of trout hiding beneath the surface. Swimming in the Blue Spring's cold, crystal waters is not encouraged, but if you fancy a warming dip, it's not far to the Okoroire Hot Springs, a short 15-minute drive away.
Location: Waikato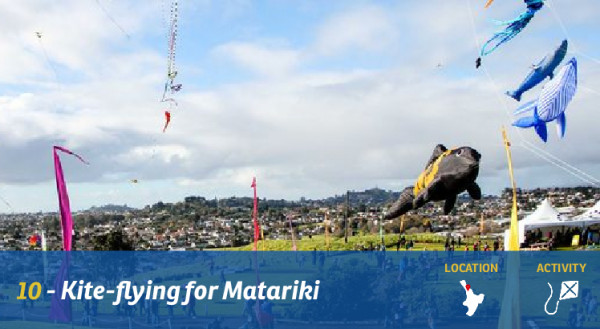 Matariki is the Māori New Year celebration and kite-flying is a special feature of the festivities. The Auckland (Tāmaki Makaurau) Matariki Festival takes place from 30 June to 22 July and will have kite-flying events located in Ōrākei, Puketāpapa and Manurewa, where friends and families can gather and fly kites at vantage points across the isthmus.

Create your own kite from scratch or decorate one on the day, Matariki is a time to come together to reflect on the past and prepare for the year ahead, so pack a picnic and enjoy the captivating spectacle in the sky.

Location: Auckland